Sapa Specialty: What to eat, what to buy as a gift?
Sapa Specialty TOP food and gifts will answer to the question "What are you most impressed in Sapa?". By the majestic natural wonders? The romantic and romantic landscapes? The colourful flower seasons all year round or by the extremely delicious and attractive food in this place? If you come to Sapa, definitely do not forget to explore the rich cuisine of this land. So, here are some top dishes you cannot ignore when travelling to Sapa.
Salmon, fresh sturgeon
Firstly, Sapa Specialty Top Food I want to introduce is fresh Salmon and Sturgeon. You think only in temperate regions of other countries can catch fresh salmon? Not where you can enjoy the fresh salmon caught right up the lake in Sapa itself. The chef can process into many different dishes but the most attractive food is the salmon hotpot.
In the cold weather of Sapa, sitting to enjoy a hot pot of salmon hot, fragrant and a lot of fresh vegetables of this cold land, nothing better than that, right?
In addition to salmon, sturgeon is also extremely popular in Sapa. Sturgeon imported from abroad are often fat, uncertain and fragrant like sturgeon in Sapa. Sturgeon salad or charcoal-grilled sturgeon are very delicious dishes that visitors to Sapa once enjoyed is unforgettable.
Lam rice
Travelling to Sapa can not ignore the special, idyllic specialities that are blue rice cooked by the best rice grains grown on the majestic terrace fields in Sapa, Bat Xat, Bac Ha.
Lam rice is cooked from rice and put in cork and baked on charcoal, it has just the sweet, fragrant taste of upland rice and the aroma of cork and burning embers. During the process of baking on charcoal, it must be rotated evenly so that the rice is cooked evenly, without burning or living. Lam rice is separated from the bamboo tube both flexible, fragrant, and just as smooth as the silk rolls so that the whole week is still fragrant.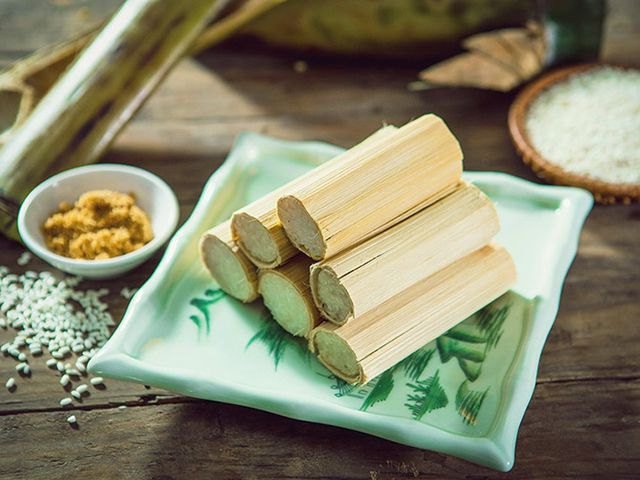 Eat the blue rice to feel exactly the sweet taste of the rice grains created by the essence of heaven and earth and the industrious hands of the people plying the fields all year round.
Fresh cold vegetables
Sapa is famous for growing clean vegetables in the North. With a cool climate throughout the year, which is a great weather condition for all types of temperate regions to develop.
Sapa vegetables such as kale, red radish, chayote, garlic sprouts, cauliflower, white cauliflower, etc have a more delicious, aromatic flavor, especially with vegetables grown elsewhere.
The vegetable dishes always make visitors feel interested and considered as one of the specialties Sapa must enjoy such as boiled chayote with sesame salt, fried coriander with garlic, chicken hotpot with vegetables
Pork theft armpit
A Sapa specialty that many travelers pass on is the armpits stealing pork. The reason is called the armpits because it is a free-grazing breed of H'Mong people. And the local people often steal into the armpits to sell at the market. This breed is small, only about 5-6kg / head but the meat is fragrant and very firm
The best armpits are left either roasted or turned over embers. When nine pieces of yellow pork are cooked, the scent of embers is sweet and tender. The piece of meat has a crispy layer, then a layer of lean meat is very soft, sweet, the innermost part of the bone is also very small and soft, even edible if not too hard. Pork stealing baked armpits and sipping with apple cider is the "great cat" that will make you unforgettable.

Grilled stream fish
Who has ever enjoyed stream fish in Sapa yet? If you have ever eaten grilled stream fish on charcoal in Sapa, you must also assert that this is another Sapa specialty that must be remembered.
Stream fish has many types, but especially no fishy taste, when grilled on charcoal, it smells sweet and fragrant.
When eating a piece, the sweet taste penetrates the tip of the tongue and spreads and occupies the senses. In the evening, the area selling food with grilled fish dishes always attracts a lot of visitors.
Khon Gai dried meat
Sapa has another impressive specialties: Khon Gai dried meat. Ethnic people in mountainous areas often have the habit of hanging pork, buffalo, cow, and deer up to the kitchen to dry.
The meat is sliced into large pieces, each piece is from 2 -3 kg, sewn with string and then tied up to the kitchen upstairs to dry up to make food reserves.
Meat to be eaten every year is not broken. You just take it down, scrub soot layer and then sauteed cooked with bamboo shoots, with tomatoes, etc. The meat is very fragrant and fleshy, making it great for drinking.
Shiitake forest in Sapa
Shiitake is one of the most valuable specialties in Sapa. At first glance, it is no different than the regular mushrooms, but if ever eaten, then surely everyone must assert that no mushrooms anywhere can match.
Brocade in Lao Cai
Finally, the last Sapa Specialty TOP gift you don't want to skip when travelling to Sapa is beautìul Brocades made by H'Mong people. If coming to Sapa, do not hesitate to buy yourself colourful brocade brochures, with many unique motifs. You can also buy souvenirs such as handbags, wallets, hats, shirts, towels … made from brocade are also extremely beautiful.
In Sapa market or Bac Ha fair (every Sunday meeting) are very bustling markets with crowded brocade. Tourists in Vietnam and other foreign countries will quickly be attracted by the colours of brocade, backpack, bags … The design is quite rich, sleek and convenient for you to choose comfortably with a very affordable price.
Enjoy the most complete trip to Sapa with these fascinating and unforgettable dishes!

How to get to Sapa with the most convenient way? Here is the answer!
One thing that is indispensable to get a great trip in Sapa is transportation to Sapa. With the premium limousine provided and operated by Amazing Uncles, you will surely have a safe, comfortable and affordable trip.
The top 1 rating of the transport service to Sapa evaluated by worldwide travellers on the TripAdvisor website is the most authentic evidence about our service.