Sapa Travel Tips in July – Paradise to avoid the heat
Sapa Travel Tips by Amazing Uncles will help you not to miss the experience of checking-in the blooming rose valley and the peaceful Lao Chai – Ta Van villages when coming to Sapa in this Summer.
Located at the foot of the majestic Hoang Lien Son range, with a cool year-round climate and only 5-6 hours from Hanoi by highway, Sa Pa is an ideal destination every summer. In addition to the terraced fields in the ripe rice season, Sa Pa also attracts visitors thanks to the beauty of many other destinations that are enough for you to schedule a 3-day "avoid the heat" in the summer.
DAY 1
Rose Valley
Firstly, the first experience is Rose Valley that spreads over 50,000 m2 and located along the Muong Hoa mountain climbing train from Sapa town to the cable car station with more than 300,000 rose roots. Next to the giant rose garden is a vast purple flower hill which is also the most attractive check-in point in Sapa.
Tourists have not been to Sapa so crowded, so the scenery here is still very beautiful and deserted. It is easy for you to have photos alone in the middle of the flower hill. Estimated flowers still bloom until July. In the rose valley and purple flower hill, there are also many check-in points such as flower gate, swing, bird's nest, etc.

Fansipan cable car
Buy a ticket to Fansipan cable car, you will have the opportunity to see the flower valley from the window of the climbing train, sitting in the cabin to have a view of the terraces in the ripe rice season, or the surrounding mountains. . The way to Fansipan is not only to sit on the cabin or train, but you can still climb up the high stone steps, leading to the spiritual population and especially the check-in Fansipan – the roof of Indochina.
To stimulate market demand, this resort now reduces round-trip cable tickets from VND 750,000 to VND 500,000 per person. Tickets to climb Muong Hoa mountain 100,000 VND / person. Mountain climbing Fansipan ticket 70,000 VND / person. Note: wear low-heeled shoes, bring a jacket, raincoat, or umbrellas in case of sudden cold weather and cloudy skies.

Swing Sa Pa
This is a new "check-in" complex attracting many tourists located at 87 Nguyen Chi Thanh (next to Hoang Lien National Park). Swing Sa Pa is near the center of town, about 2 km from Cable Church.

With many beautiful and strange constructions such as the statue of him and her, the giant stone hand, the Buddha image, "the stairway to heaven", the swing … this place has become a place with countless angles to create pictures. Unique picture.
Note, before going out should prepare costumes, or you have to rent on the spot for 50,000 VND / set, should fully charge the camera battery, phone. If you're travelling in a group, you can organize a picnic or a small picnic right here. Entrance fee 80,000 VND / person.
DAY 2
Lao Chai – Ta Van Village
From town you follow the 10 km long road to Ta Van by motorbike, taxi or trekking. The road to Lao Chai – Ta Van is narrow, the two sides are covered with a green color of rice and corn terraces. Although no longer wild, remote, Lao Chai – Ta Van is still a peaceful village with many ethnic residents such as the Mong, Dao, Giay …
Most impressive here besides the local ethnic life is also the terraced fields spread across the hillsides. The end of summer is the time when ripe rice is yellowing an entire mountain. So if you have a lot of time, spend a day here to experience the local lifestyle. Tickets to the 70,000 VND / person.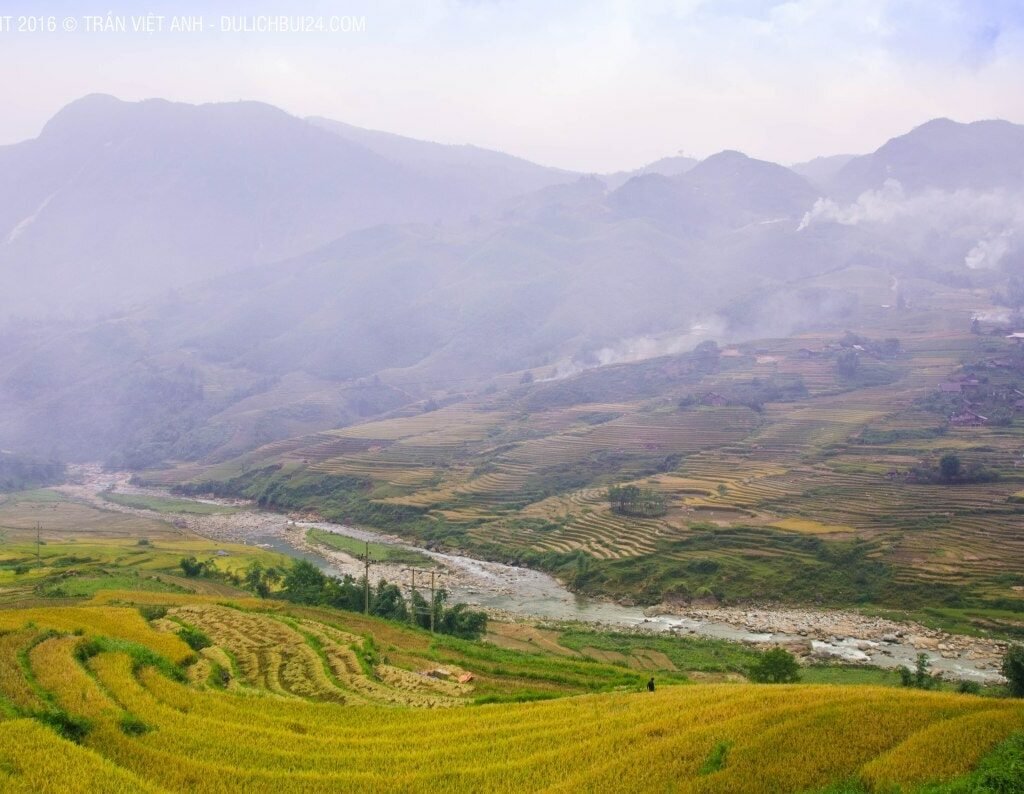 Ho Seo My Ty
To reach Seo My Ty lake, Ta Van commune, you have to cross a 20 km long road with many small and large stones so it is quite challenging for weak drivers. The lake was created by damming the construction of the Seo My Ty hydroelectric dam and is also the highest artificial lake in Vietnam.
Viewed from above, the lake looks like a silk band on the side of the Hoang Lien Son range. Coming here, you can ask fishermen to sit with boats and rafts to admire the lake and learn about salmon farming of the people here.
DAY 3
Sky Gate
From the center of Sapa, follow the National Highway 4D for about 15 km, to the highest part of O Quy Ho Pass you will reach Heaven Gate. From here, you can enjoy the panoramic view of the vast valley below, the terraced fields intersecting winding winding roads. Currently, there are many new constructions such as restaurants, cafes, hotels …
Heaven Gate gathers 80,000 VND / person, plus a drink

Must-visit destinations in Sapa – O Quy Ho Pass
O Quy Ho is known as the "King of the passes" with a deep valley on one side and a cliff. It extends about 50 km connecting the two provinces of Lao Cai – Lai Chau. Recommended for those who want to take great photos on this pass is coming at sunset time, about 17 – 17h30.
As the sun gradually hid behind the mountains, the entire mountain pass was covered in dreamy golden color. However, the weather in Sapa changes very quickly, maybe only 10 minutes after the sun and sunset, the dark clouds are covered.

Along the pass to Silver Falls and Love Falls, there are many stalls selling local specialties, food, drinks, providing seating for guests to rest. Going to O Quy Ho Pass, you should bring a raincoat and a thick jacket, ride a motorbike, remember to wear a helmet and pay attention to every corner.
Silver Waterfall – Waterfall Love
Located on O Quy Ho pass road, 3 km from the top of the pass, Silver waterfall and Love waterfall are also the must-see places for many young people. Silver waterfall has a staircase to the top of the waterfall, but the more it will get cold and the water will flow strongly, pay attention to avoid slippery.
Love Waterfall, although the road from the entrance to the waterfall is 1.5 km and has to walk, the path to the romantic forest. Tickets to the Silver Falls 20,000 VND / person, tickets Love Love 75,000 VND / person.
NOTE
Move
If travelling by car, you should book a luxury limousine Hanoi – Sa Pa or a bus from My Dinh wharf for 230,000 – 350,000 VND / person depending on seat class. Travel time is about 5 – 6 hours.
Or you can get to Sapa by, you choose the trip Hanoi – Lao Cai, after about 7-9 hours to take the bus, taxi to the centre of Sapa. Train fares range from VND 160,000 to VND 800,000 depending on seat type and train type.
In Sapa, you can rent a motorbike to move more freely. However, there are many steep passes in Sa Pa, remember to check carefully the car and limit the rental of scooters. Car rental 100,000 – 200,000 VND / day.
Accommodation
Sapa has many types of accommodation for you to choose from motels, homestays in hostels, hostels, cheap hotels, to 4-5-star hotels, luxury resorts located separately.
With resorts in Sapa, there are notable places such as Topas Ecolodge, Sapa Jade Hill, Hôtel de la Coupole – MGallery, Silk Path Grand …
If you choose a homestay, hostel, look to villages like Cat Cat, Lao Chai, Ta Van to enjoy the peaceful space of Northwestern mountains. The dorm room price is from VND 100,000 per person, the price for double rooms in the bungalow is from VND 500,000. Some favourite homestays are Eco Palms House, Heaven Sapa, Viettrekking, Phorri's House, Sapa Heavenly
Cuisine
In Sapa, you have to eat baked goods, because this is a dish that is ubiquitous and ranging from skewers of pork, chicken, vegetable rolls to eggs, corn, potatoes, and rice.
The price of baked goods is only 20,000 – 100,000 VND each. In addition, salmon, sturgeon cooked hot pot or eaten raw is also very popular. A pot of 300,000 – 600,000 VND suitable for 3-6 people to eat.


How to get to Sapa with the most convenient way? Here is the answer!
One thing that is indispensable to get a great trip in Sapa is transportation to Sapa. With the premium limousine provided and operated by Amazing Uncles, you will surely have a safe, comfortable and affordable trip.
This is evidenced by the top 1 rating of the transport service to Sapa evaluated by worldwide travellers on the TripAdvisor website.